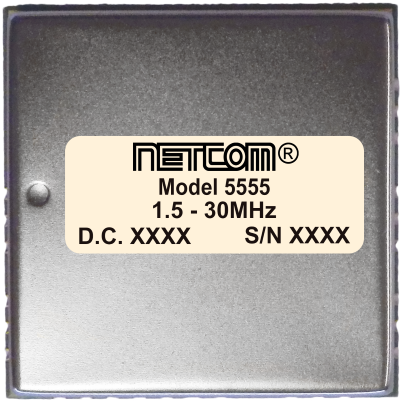 5555-3
Netcom's 5555 is a tunable filter covering the frequency range of 1.5MHz to 30MHz.
The 1.5-30MHz filter has been designed using three bands of tunable filters. This tri-band filter is offered in a small integrated SMT package to support applications where compact design, power requirements, and board layout flexibility are important. It meets the vibration and shock requirements of systems used in ground-mobile and airborne environments.
The following table shows the typical performance of the filter at a bandwidth of 3%. Options are available upon request for different bandwidths.
Specifications
Performance
Mechanical
Ordering Information
Evaluation
Serial Address
More Details
Specifications
Frequency Range
1.5 to 30 MHz
BW (Typical)
3.10%
Impedance (Input /Output) – Typical
50 Ω
Fc + 10% Selectivity – Typical
<-28.5dBc
2Fc
-60dBc
Tuning Speed
< 200 µs
Insertion Loss Typical
5.8 dB
Insertion Loss Max
7.5 dB
Return Loss Min
8.0 dB
Tuning Channels
1.5MHz- 4MHz
250
4.0MHz- 10MHz
249
10MHz- 30MHz
249
RF Input Power (P1dB)
1.5MHz to 4MHz
17dBm
4MHz to 10MHz
24dBm
10MHz to 30MHz
26dBm
In Band Power Handing Max
30dBm
Out of Band Power Handing
33dBm
IP3
1.5MHz to 4MHz
28dBm
4MHz to 10MHz
34dBm
10MHz to 30MHz
37dBm
Vcc
4.5V-5.5V
Vbb
93V-125V
DC Current Max
425 mA
Operating Temperature Range
-40 to +85°C
SPI Interface
Dimensions
2.2 X 2.2 X 0.5 inches 55.90 X 55.90 X 12.7 mm
Performance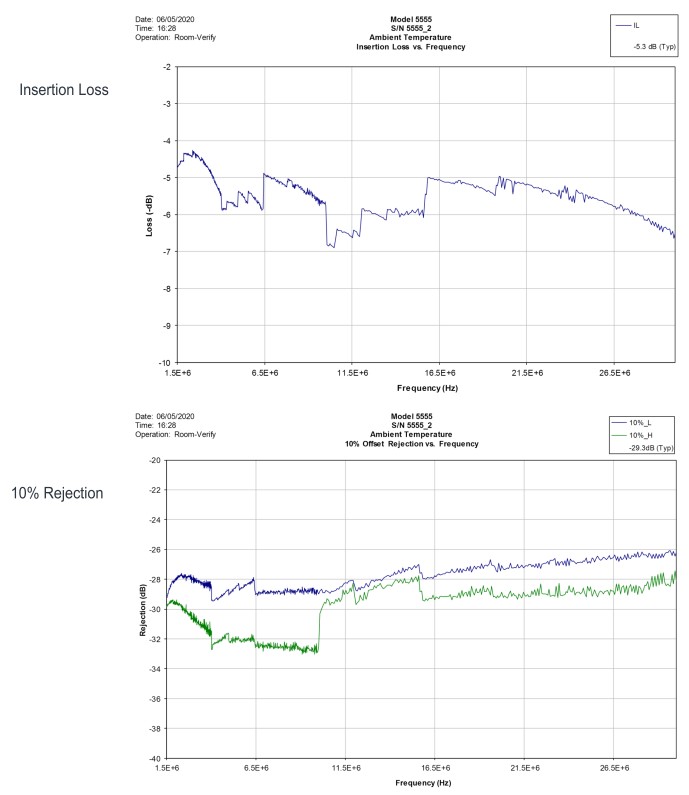 Mechanical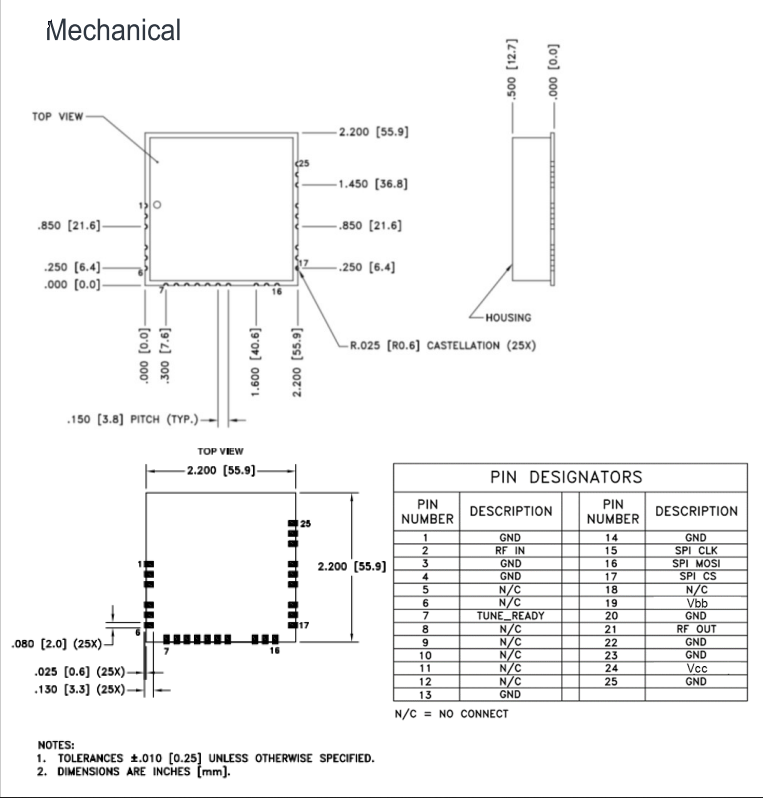 Ordering Information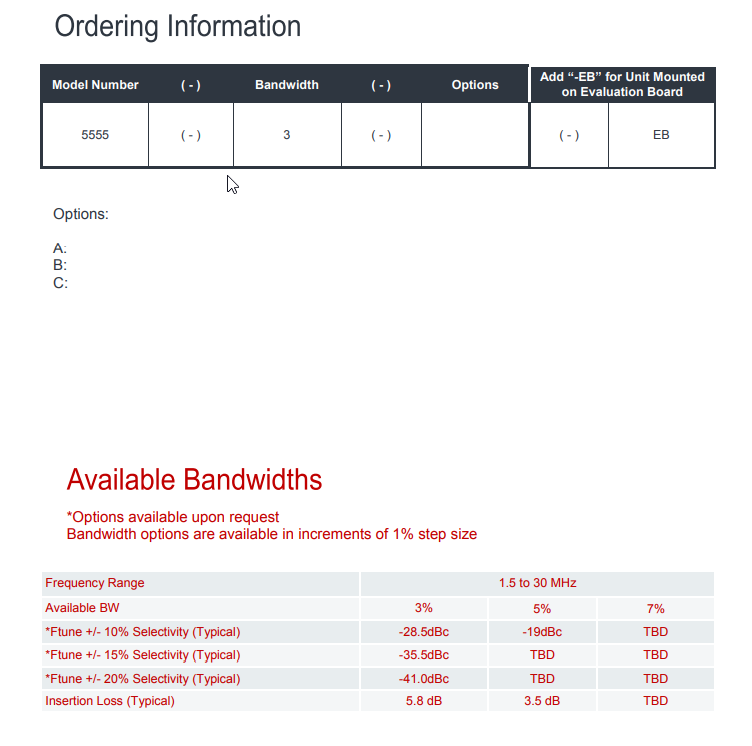 Evaluation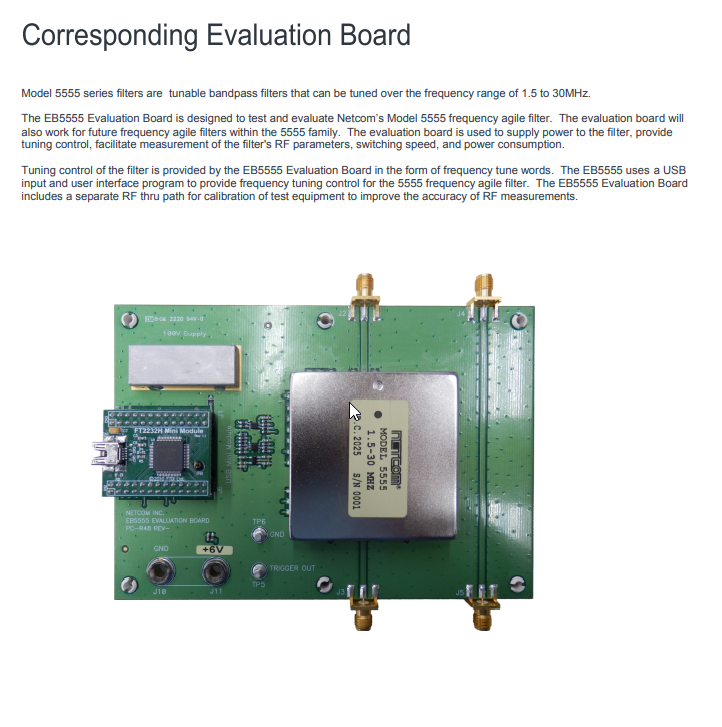 Serial Address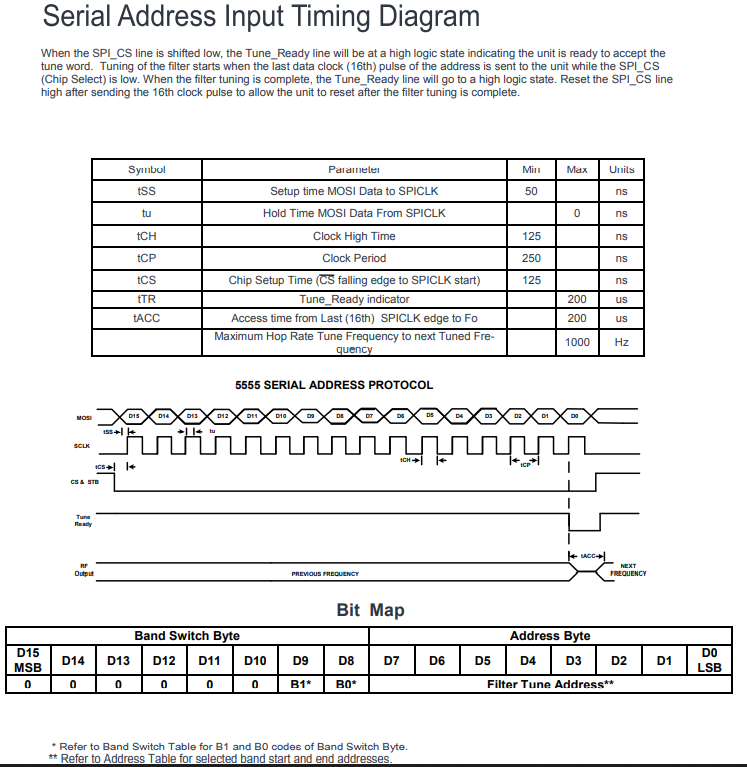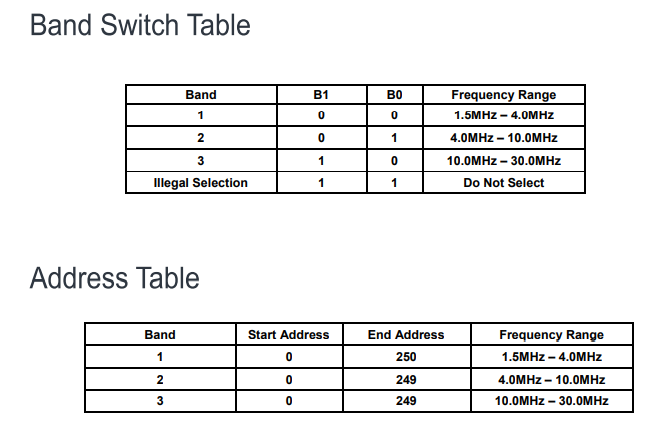 More Details