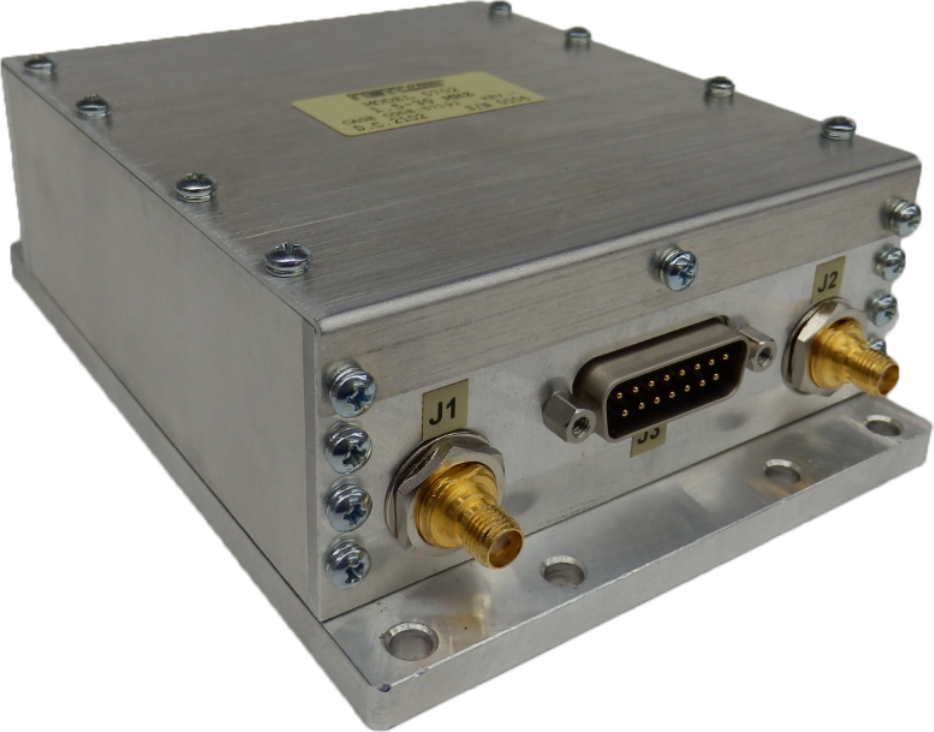 5702
Netcom's 5702 is a tunable filter covering the frequency range of 1.5MHz to 30MHz.
This 1.5-30MHz LRU filter has been designed using three bands of tunable filters. This tri-band filter is offered in a mechanical package to support applications where compact design, power requirements, and mechanical installation flexibility are important. It meets the vibration and shock requirements of systems used in ground-mobile and airborne environments.
Specifications
Performance
Mechanical
Serial Address
More Details
Specifications
The following table shows the typical performance of the filter at a bandwidth of 5.3%. Options are available upon request for different bandwidths.
Frequency Range
1.5 to 30 MHz
BW (Typical)
5.3%
Impedance (Input /Output) – Typical
50 Ω
Fc + 10% Selectivity – Typical
< -19dBc
2Fc
< -60dBc
Tuning Speed
< 200 µs
Insertion Loss Typical
3.5 dB
Insertion Loss Max
4.5 dB
Return Loss Min
8.5 dB
Tuning Channels
1.5MHz- 4MHz
250
4.0MHz– 10MHz
249
10MHz– 30MHz
249
RF Input Power (P1dB)
1.5MHz to 4MHz
20dBm
4MHz to 10MHz
27dBm
10MHz to 30MHz
28dBm
In Band Power Handing Max
30dBm
Out of Band Power Handing
33dBm
IP3
1.5MHz to 4MHz
31dBm
4MHz to 10MHz
38dBm
10MHz to 30MHz
39dBm
Vcc Range
6.0V to 15.0V
DC Current Max
275mA
Operating Temperature Range
-40 to +85°C
Control Interface
SPI Interface
Dimensions [L x W x H]
5.50 x 4.00 x 1.966 inches
139.70 x 101.60 x 49.92 mm
Performance
Insertion Loss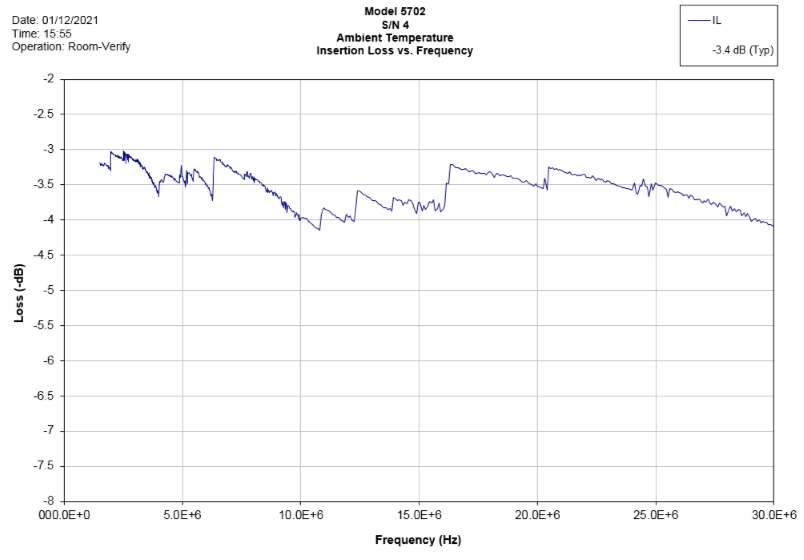 10% Rejection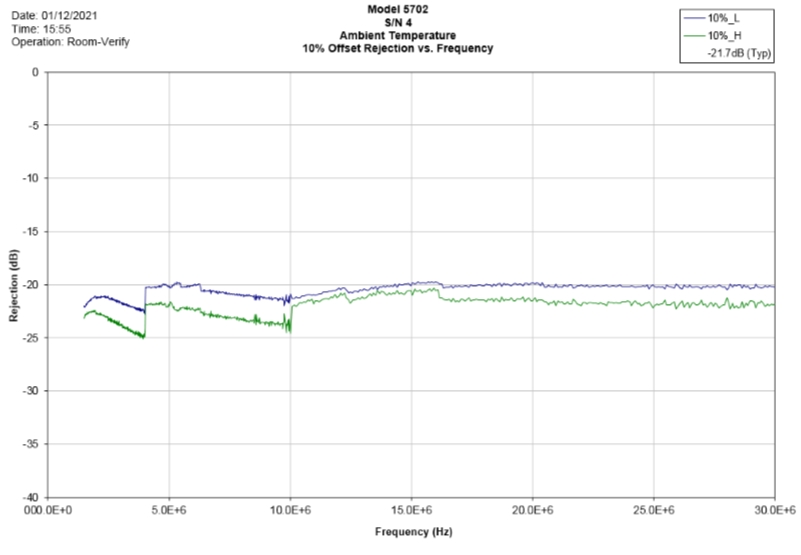 Band Switch Table
| | | | |
| --- | --- | --- | --- |
| Band | B1 | B0 | Frequency Range |
| 1 | 0 | 0 | 1.50MHz – 4.00MHz |
| 2 | 0 | 1 | 4.02MHz – 10.00MHz |
| 3 | 1 | 0 | 10.08MHz – 30.00MHz |
| Illegal Selection | 1 | 1 | Do Not Select |
Address Table

Mechanical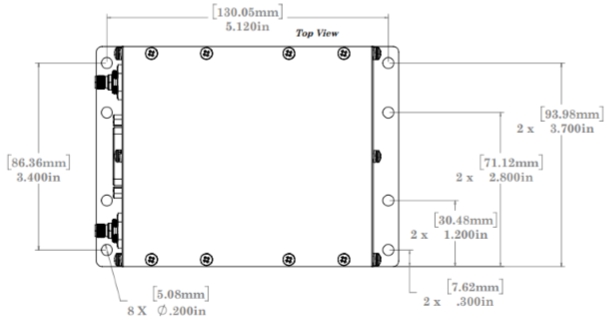 Connector Pin Out (DB15 Male)
PIN DESIGNATORS
PIN NUMBER
DESCRIPTION
1
TUNE_READY
2
NC
3
NC
4
NC
5
NC
6
NC
7
GND
8
VCC (6V to 15V)
9
GND
10
NC
11
GND
12
GND
13
SPI_CS
14
SPI_SCLK
15
SPI_MOSI
Serial Address
Serial Address Input Timing Diagram
When the SPI_CS line is shifted low, the Tune_Ready line will go high indicating the unit is ready to accept the tune word. Tuning of the filter starts when the last data clock (16th) pulse of the address is sent to the unit while the SPI_CS (Chip Select) is low. While the filter is processing the tune word request, The Tune_Ready Line will be low. When the filter tuning is complete the Tune_Ready line will go high to indicate the filter tuning is complete. Reset the SPI_CS line high after sending the 16th clock bit to allow the unit to reset after the filter tuning is complete.
Note: Monitoring of Tune_Ready line is not required.
Symbol
Parameter
Min
Max
Units
tSS
Setup time MOSI Data to SPICLK
50
ns
tu
Hold Time MOSI Data From SPICLK
0
ns
tCH Clock High Time
125
ns
tCP
Clock Period
250
ns
tCS
Chip Setup Time (CS falling edge to SPICLK start)
125
ns
tTR
Tune_Ready indicator
200
us
tACC
Access time from Last (16th) SPICLK edge to Fo
200
us
Maximum Hop Rate Tune Frequency to next Tuned Frequency
500
Hz

Bit Map

More Details
Environmental Specification Standards
Temperature:
High temperature shall meet MIL-STD-810E, Method 501.3, Procedure I to 85°C storage, and procedure II to 85°C operating.
Low temperature shall meet Method 502.3, Procedure I to -57°C storage, and Procedure II to -40°C operating.
Vibration:
MIL-STD-810E Method 514.4 Ground Mobile Test Procedure I, Test Condition I – 3.4.7
Shock: 
MIL-STD-810E Procedure I, Method 516.4 – Functional Shock.
Reflow: 
MSL (Moisture Sensitivity Level):