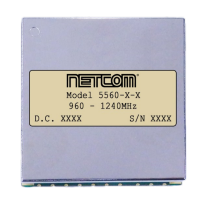 MODEL 5560
Netcom's 5560 is a tunable filter covering the frequency range of 960 MHz to 1240 MHz. The 5560 filter is offered in a small integrated SMT package support applications where compact design, power requirements, and board layout flexibility are important.  It meets the vibration and shock requirements of systems used in ground-mobile and airborne environments. Options are available upon request for different bandwidths.
Specifications
Performance
Mechanical
Ordering Information
Evaluation
Serial Address
More Details
Specifications
Frequency Range
960 to 1240 MHz
Available BW (Typical)
5.5%
*Ftune +/- 10% Rejection (Typical)
-20.0 dB
*Ftune +/- 15% Rejection (Typical)
-27.0 dB
*Ftune +/- 20% Rejection (Typical)
-31.0 dB
Insertion Loss (Typical)
-4.1 dB
Impedance (Input /Output)
50 Ω
Tuning Speed
6µs max
Tuning Resolution
2 MHz
P1dB
+30 dBm
IIP3 (+24dBm input)
 +45 dBm
Noise Figure (Typical)
< 0.5 dB above Insertion Loss
DC Power
DC Voltage
3.3 VDC +/- 0.3 VDC
DC Current Max
260 mA
Operating Temperature Range
-40 to +85°C
Control Interface
SPI or Parallel
Dimensions [L x W x H]
1.50 X 1.50 X 0.25 inches

38.10 X 38.10 X 6.40 mm
Performance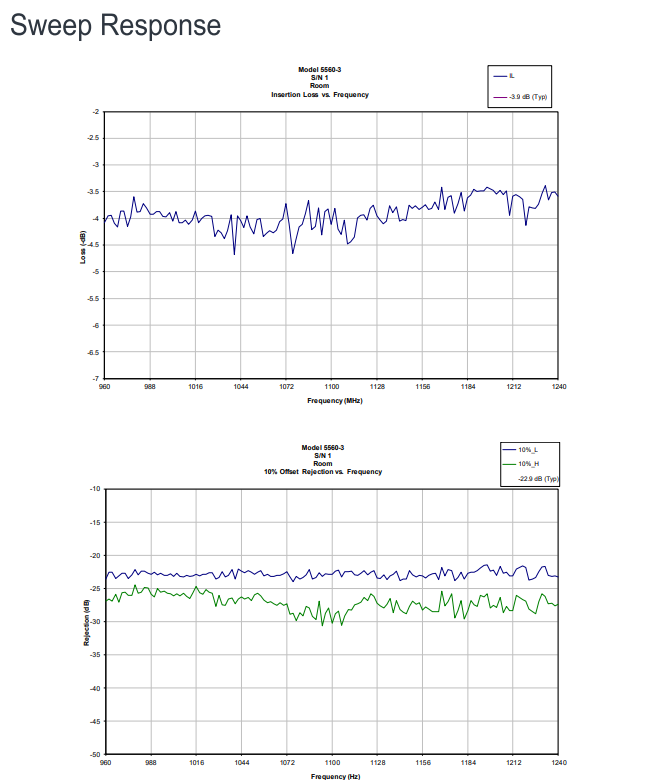 Mechanical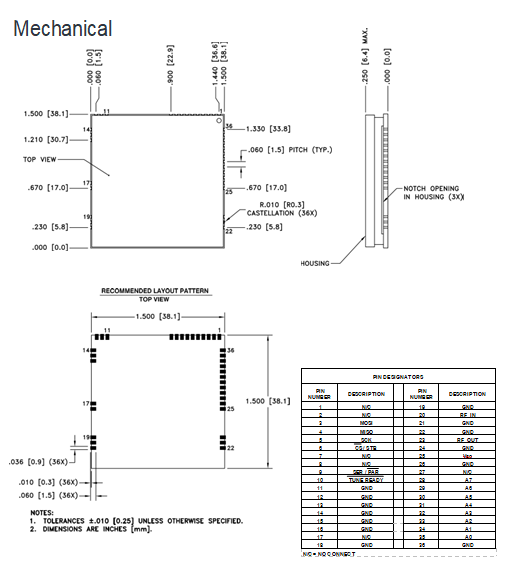 Ordering Information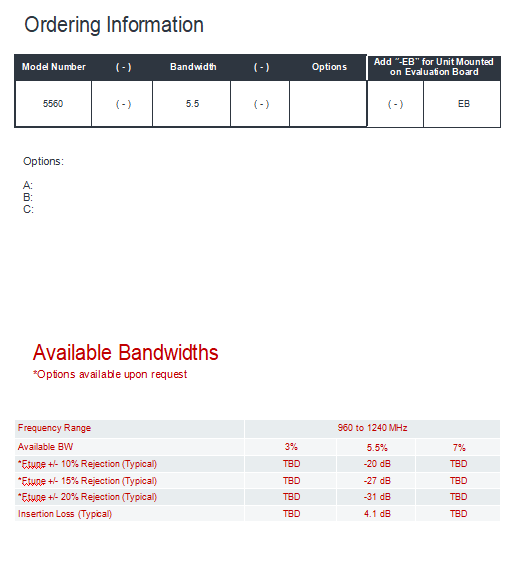 Evaluation
Model 5560 series filters are tunable bandpass filters that can be tuned over the frequency range of 960 to 1240MHz.
The EB5560 Evaluation Board is designed to test and evaluate Netcom's Model 5560 frequency agile filter.  The evaluation board will also work for future frequency agile filters within the 5560 family.  The evaluation board is used to supply power to the filter, provide tuning control, facilitate measurement of the filter's RF parameters, switching speed, and power consumption.
Tuning control of the filter is provided by the EB5560 Evaluation Board in the form of frequency tune words.  The EB5560 uses a USB input and user interface program to provide frequency tuning control for the 5560 frequency agile filter.
Serial Address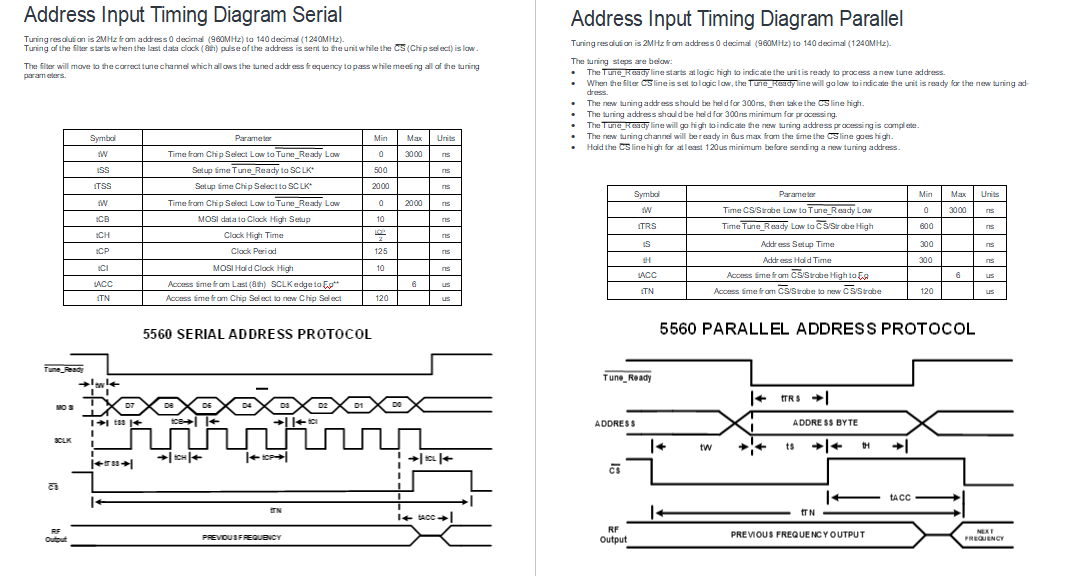 More Details